Lisses Cricket Club welcomes Munich Cricket Club
Publié il y a 1 an par Visu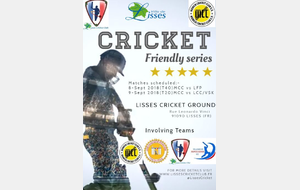 International Friendly Series @ Lisses
Lisses Cricket Club is pleased to host a very talented "Munich Cricket Club E.V " from Germany for a international friendly series which will involve MCC playing a 40 over match and a 20 over match on 8th September and 9th September respectively at Lisses Cricket Ground, Lisses.
WORD FROM OUR PRESIDENT:
I'm pleased and honored to host you in our Lisses Cricket ground for a much awaited friendly series.
Even though Lisses Cricket club wanted to play against MCC, unfortunately we have an important semi-final match on 8th Sept in the French Division2 league.
I would like to applogize to the Munich team for this unprecedented change. Nevertheless, we are happy to host and challenge Munich team against our neigbhours (LFP_MORANGIS & Villenue_Super_Kings).

Special thanks goes to LFP-Morangis and Villenueve Super Kings for providing us the needed support and accepting the challenge to face our visitors in this short notice.
Looking forward to receive Munich team in our amidst for our friendly "Lisses" series.
Bienvenue chez Lisses !!
Merci
Aro
------
To know about the playing teams:
Munich CC E.V : www.munichcricket.net
Villeneuve Super Kings - Facebook link
LFP Morangis - FacebookLink
toute l'association